Artist Statement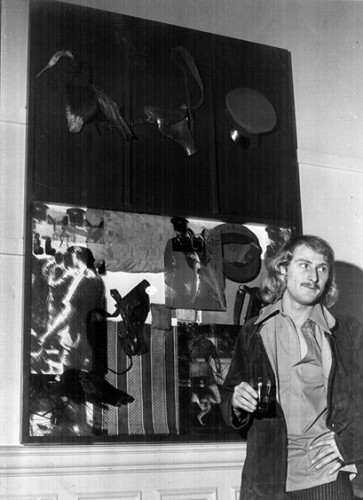 Updated 2016
ART AND PROTEST: THE PAST:
Born and raised in South Africa during the apartheid years, I chose, after graduating from art school in the city of Johannesburg, to create images that have since become icons of the struggle against apartheid. Assemblages that contain photographic evidence of police brutality, alongside fragments of the real world gathered from the streets are the first constructions I made with direct reference to the nature of what was taking place.
SEE BILL OF WHITE RIGHTS; FORGE
The subsequent installation of life size plaster figures representing the ongoing torture and deaths of political prisoners while in detention took place a week after the Black Consciousness leader Stephen Bantu Biko had been murdered by the security police.
SEE TORTURE AND DEATHS IN DETENTION
Having been given privileged access to autopsy photographs of Steve Biko's poor body, I produced a number works that continue to reflect on the brutality of the apartheid system, and the ongoing damage done to the lives of human beings everywhere who take a stand against authoritarian states, systems and regimes.
SEE BIKO SERIES; ELEGY; INTERROGATION SPACES
After spending a postgraduate year at the Royal College of Art in London I returned to South Africa, and utilizing a more expressionistic and distorted pictorial means focused my work on the perpetrators of the system.
SEE THE GENERAL; THE LEADER; THE LITTLE FASCIST
Invited to be artist-in-residence at Tuft's University and despairing that the country would never change my wife Carol and I left South Africa for the United States in 1988.
IMMIGRANT ARC:
The openness and generosity of America gave me permission to explore imaginative possibilities and subject matter that in South Africa would have been regarded as a betrayal of the struggle. At first my interest in Zulu and Ndebele beadwork, Australian Aborigine 'Dream Time' paintings, Hindu and Buddhist practices and deities influenced and informed my work.
SEE GUARDIAN; ALCHEMIST; BODHISATTVA; FREEDOM DANCER: THE SOUTH AFRICAN
However the difficulties inherent in immigration and exile, dislocation, disconnection, despair, nostalgia and uncertainty continued to dog my practice for many years.
SEE LOVE'S BODY; CROSSING; SLIPSLIDE; TURNING POINT; LOOP
In 2004, while teaching in the Visual and Environmental Studies Department at Harvard University I spent 2 weeks as artist-in-residence on Robben Island. The island is a low-lying outcrop of rock barely 8 miles from the South African mainland and the city of Cape Town. It may be the most significant historical site in South Africa, as it paradoxically symbolizes the repressiveness of the apartheid state and the strength of those who opposed it. The role of the island is well known as the political prison in which Nelson Mandela was held. Fragments and relics that I discovered and photographed during my residency became source material on my return to Boston. Memory, history, and loss became embedded in this body of work.
SEE THE ISLAND; GATE; MONUMENT; SOURCE; TIDAL POOL: BETHESDA
FINDING 'HOME':
After a number of years I began to feel a connection that bridges the southernmost tip of Africa with the East coast of America. From the tidal pool called Bethesda, place of healing, situated at the rock-strewn edge of Robben Island to the breakwater in Provincetown I began to paint a thread.
SEE BREAKWATER SERIES; BORDERLINE
The formal aspects of my work have undergone significant changes that correspond to increasingly sophisticated technical insights into the use and manipulation of gouache and color. I have slowly suspended the narrative context of my search for meaning in favor of pictorial structures that emphasize the use of color.
SEE SOUNDING; HINDU GATE; AFRICAN SPICE
This search for structures that would embody my increasing engagement with color, led me to discover that I live in an environment that contains an abundance of trees, and this has been a shape revealing revelation. The importance of varied and complex figure/ground relationships suspended in fields of variegated color, constitute a search for beauty and mystery which is the purpose of this work.
SEE SUNDAY IN SAVANNAH; MOONRISE; SIX THIRTY PM SPRING; BLUE CAPE; SEASONAL FIRE; AFTER THE FLOOD: MORNING